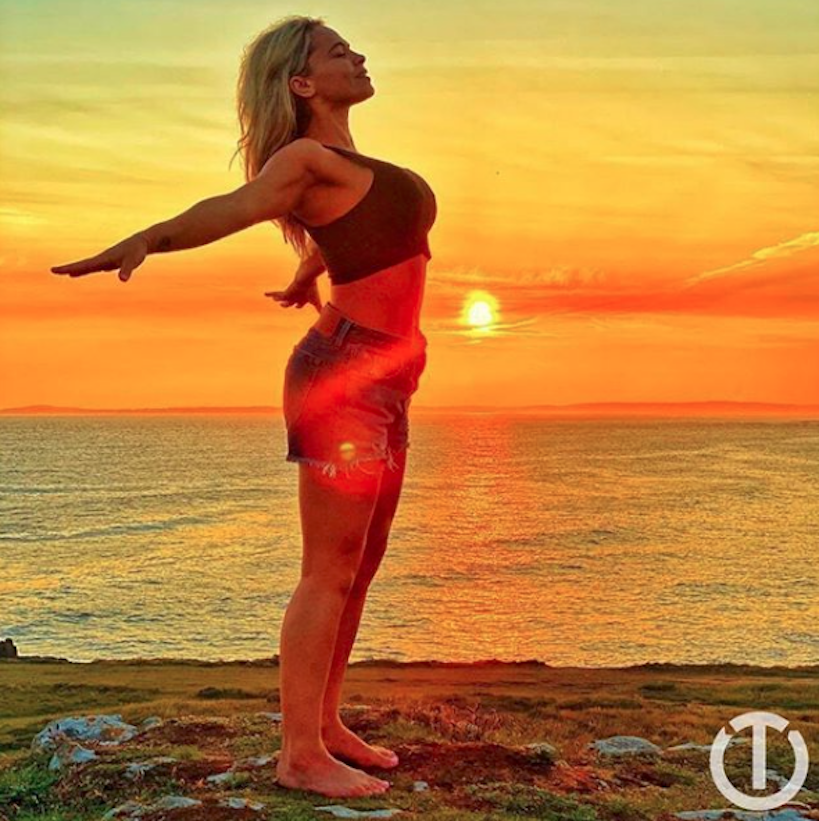 29 Jun

Five ways to get summer ready

What with lockdown and all the craziness that's been going on, summer totally snuck up on me, I don't know about you? Now we're all heading to the beach, the park and soon, maybe even abroad on holiday – eek so exciting!

When summer arrives, I often get asked the best way to tone up problem areas, like the stomach and the tops of the legs, as well as how to feel body confident. It's totally normal to feel a bit self-conscious about the thought of getting into a bikini, or a crop top, we all have insecurities and worries about parts of our body. I've worked in fitness for 20 years and am fit and toned, but even I get days when I focus on the things I think need improving – nobody's perfect!

I have definitely learnt some tricks to make sure I feel confident each year and I'm dying to share my ways to get summer ready with you. You'll be rocking that crop top and denim cut offs in no time:
1. Exercise every day
I have a few simple exercises at the core of my daily fitness routine. It's definitely more about the frequency than doing a complicated work-out. You don't need to do anything fancy, just a series of squats, push-ups and lunges.
If you can't set aside the time to do an hour's exercise each day, then just a quick 30-minute blitz with these key movements will make the world of difference.  It's enough to change both your body shape and fitness levels.
Not sure your technique is ok, or if you're doing the exercises right? I'll let you in to a little secret: we're actually going to be launching a brand-new conditioning work out on On Demand very soon! I can't wait to share it with you, so stay tuned.
If training at the gym and conditioning exercise aren't for you, remember that just going for a walk every day is really good at burning the fat on your legs. Those stubborn, difficult to shift bits, will really start to disappear and firm up if you go for a 30 minute, to 1 hour, walk each day. It's one of the easiest ways to get summer ready, you don't need equipment, special clothes or trainers, just get out there and get stepping.
I really recommend spending time outdoors. It will clear your head and give you the space and time you need to feel centred and calm. Not only will you look amazing in your bikini, you'll feel your very best mentally too. Win-win!
2. Visualise it
In your mind, picture yourself looking your absolute best. The expression on your face, what you're wearing, what your hair's doing. All those little details we love to daydream about. Take this mental snapshot and use it as your goal every day. This is what you're aiming for and you WILL get there. See it, keep it in mind and use it as motivation to actually become that person – you can do it! Checking in with yourself is one of the most important ways to get summer ready.
Anyone can step up and be that best version of themselves. Don't be the person your partner, or your parents, or your friends want you to be. Tune into your own desires and wants. Lock in on who YOU want to become.
All human beings have the ability to transform. Like a caterpillar emerging from its cocoon and taking to the sky as a butterfly. This is the essence of personal development.
Taking information in, becoming inspired by it and allowing yourself to be transformed and, in turn, inspire others as well.  Seeing what you can become and what you can help others become is one of life's most important challenges.
You can be any shape or size, but it's the inner confidence and a sense of self-worth that has the most impact on how other people see you.
3. Supercharge yourself with a healthy diet
It's all too easy to over indulge at this time of year with BBQ food, ice cream, cocktails… The list goes on! If you're a regular reader, you'll know this is most definitely something I've been guilty of in the past. I talk about overcoming binge eating here.
These lockdown months have been very tough and there's nothing like a bit of comfort food to feel better. But if you're focused on getting toned up, one of the best ways to get summer ready is to really start thinking about what you eat.
It's all about making good decisions. Go to that BBQ, but make your own plate and choose things that are good for you. Each meal should ideally be divided into four. A quarter fruit, a quarter vegetables, a quarter carbohydrates and a quarter protein. There's a good visual guide here.
My secret weapon to avoid late night snacking and binging on that calorific croissant, or sugary cereal for breakfast, is overnight oats. In the evening I make myself some oats with almond milk. I add chia seeds, blueberries (you can add whatever your fave fruit is) and a scoop of protein powder. Not only do I sleep better, I also wake up totally energised. I can have a simple low-fat breakfast and don't have to eat loads of unhealthy snacks to keep myself going.
4. Detox physically and mentally 
Wave goodbye to the junk in your fridge and your social life! Have a life detox. Think about the influences surrounding you. Are they a good, or bad thing? Are your friends and those you have relationships with moving you forward, or holding you back?
In your heart, you'll know who is negative and makes you feel you're not good enough. They could be the reason behind you not achieving your goals, that little voice telling you that you can't do it.
If there are people in your life who don't support you and help you reach your full potential, then they have to go! It's not easy, believe me I've been there myself. It's hard to get out of toxic relationships and break old patterns. I promise you though, if you get rid of negative influences then Summer 2020 will be your best yet. Everything you want will come to you.
5. Get Turn'd Up
What are you waiting for? Come and join us! Our workouts are really fun and the dancehall and R&B vibes are just so summery. There's never been a better time to start working out with us. You can dance in the comfort of your own home, just add a fan, whip that hair and you can channel Beyonce in your living room whenever you like.
Doing just two of our classes a week can make a real change to your body shape and confidence. Many of our girls take part in just two fitness classes a week and within 3 months they are able to wear a bikini with confidence. Lots of our girl gang start our classes and say they could never wear a crop top, but within 12 weeks they are rocking one like it's all they've ever worn. Due to the pandemic, loads of us will be holidaying much later in the year, so there's still plenty of time to join us and tone up. You know what to do!
So there you go, the sun may not be shining this week, but now you know all the best ways to get summer ready for the next heatwave (or holiday!). What are your tips for feeling confident at this time of year? Let me know in the comments below. Sharing is caring…